Midcamp 2016 will be at the University of Illinois (UIC) in the Student Center West building, 828 S. Wolcott Ave, Chicago, IL 60612. We're working very hard to make sure the venue is accessible for all.
PUBLIC TRANSIT (#)
Several CTA buses drop close to the Student Center: #157 Streeterville-Taylor, #12 Roosevelt and #50 Damen. The CTA Blue Line Illinois Medical District station is located about 0.5 mile (10 minute walk down along Damen Ave.) from the venue. The CTA Pink Line Polk station is located 0.3 miles (6 minute walk along Polk St.) from the venue.
CTA trains and buses use Ventra cards for payment: CTA 'L' ride from O'Hare is $5, regular rides are $2.25, and bus is $2.00. Cash on the bus is $2.25. CTA Fare information has more details. Multi-day passes are available and often more cost effective for a transit-heavy long weekend.
Metra Stations (Union Station and Ogilvie Transportation Center) are a short cab ride from campus.
DRIVING DIRECTIONS (#)
From the north/O'Hare Airport: Take the Kennedy Expressway (I-90/I-94) to the Eisenhower Expressway (I-290) westbound and keep to the right; take the second exit from the Eisenhower Expressway' which is Ashland Avenue; take Ashland Avenue south to Taylor Street; then go west on Taylor Street to the campus.
From the west: Take the Eisenhower Expressway (I-290) to the Ashland Avenue exit; take Ashland Avenue south to Taylor Street; then go west on Taylor Street to the campus.
From the east: Take Harrison Street or Roosevelt Road west to Wood Street. If you take Harrison Street' go south on Wood Street to the campus' or from Roosevelt Road go north on Wood Street to the campus.
From the south: Take the Dan Ryan Expressway (I-90/I-94) and exit on Roosevelt Road (1200 south). Take a left onto Roosevelt Road. Go west on Roosevelt Road to Wood Street; then go north on Wood Street to the campus.
Construction at Jane Byrne (formerly Chicago Circle) Interchange
There will be ramp and lane closures due to construction work on the Jane Byrne (formerly Chicago Circle) Interchange during MidCamp. If you plan to drive, take extra time to navigate around construction zones. For up to date information about construction around the venue, visit www.circleinterchange.org.
PARKING (#)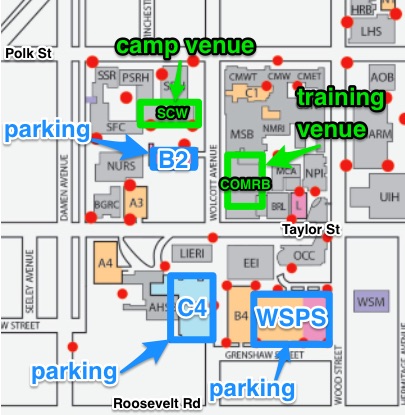 Parking is available in the Wood Street Parking Structure (1100 South Wood Street). Upon entry' guests should take a ticket and upon exit' guests should present this ticket to the cashier and pay the appropriate total (cash' debit cards' and credit cards are accepted at this lot). This is a 24 hour lot, and we recommend you park here.
There is a small lot B2 with entrance on Wolcott St, which fills up fast. Another option is parking lot C4, with entrance on Wolcott St (from Roosevelt Rd.)
Check rates & fees for parking. Expect to pay about $13 per day to park.
BIKING (#)
Chicago has a robust bike sharing network which has stations just outside the Student Center for getting to or from nearby hotel.
ACCESSIBILITY (#)
We are committed to making MidCamp accessible for everyone who attends. Please contact us with any specific accessibility concerns.
Thursday and Friday are instruction days at UIC. Though it will be the week before Spring Break, you can expect students to be around on those days.
Live Captioning (#)
Captions, composed of text, are used by people who are deaf or hard of hearing to access content delivered by spoken words and sounds. In live captioning, real-time captions or Computer Assisted Real-time Translation (CART) are created as an event takes place. A captioner uses a stenotype machine with a phonetic keyboard and special software. A computer translates the phonetic symbols into captions almost instantaneously and will be displayed on a second projector screen. (source: washington.edu) ACS (alternative communication services) will be on-site, providing the captioning service for us.
The keynote, and all 9 sessions in the BlackMesh room will be live captioned.
SNOW (#)
Snow is a possibility for Chicago in March. Please check the weather forecast before traveling. We will be monitoring the conditions, but if you encounter snow or ice related problems, please report them to the venue at 1-312-355-7669 (1-312-355-SNOW).
ACCOMMODATIONS (#)
There are a handful of nearby hotels that are walking distance or a short cab/Lyft/Uber from MidCamp. UIC also offers private or shared guest housing on the West campus.